Trakl, Wilhelm
(5/7/1868, Wiener Neustadt - 1939, Salzburg)
Georg's half-brother and oldest sibling. He emanated from the marriage of Tobias Trakl and Valentine Goetz; his mother died in 1870. After the father's new marriage with Maria Catherina Halik in 1879 he also moved to Salzburg and became a merchant like his father. His apprenticeship in the paternal enterprise only partly completed, he went afterwards on extended business trips, sojourned for longer time in New Guinea, Mexico and the USA. From 1889 he held the rank of a second lieutenant in the military.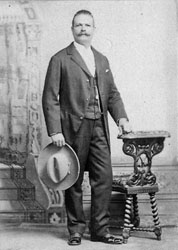 in Mexiko, 1899
With the death of the father in 1910, Wilhelm was in Salzburg, and at the wishes of his stepmother led the company which was suddenly revealed as insolvent up to its dissolution in 1913. For this reason he was also responsible for the maintenance payments to Georg. Furthermore, Wilhelm took over the guardianship for his still under-age sister Grete. However after long conflicts due to her marriage plans with the Berlin bookseller Arthur Langen he abdicated so that George could assume guardianship and the marriage took place in 1912.
Wilhelm died, like all Trakl siblings without descendants in 1939 in Salzburg.